Post by Thane Hampden on Oct 11, 2017 9:48:41 GMT -5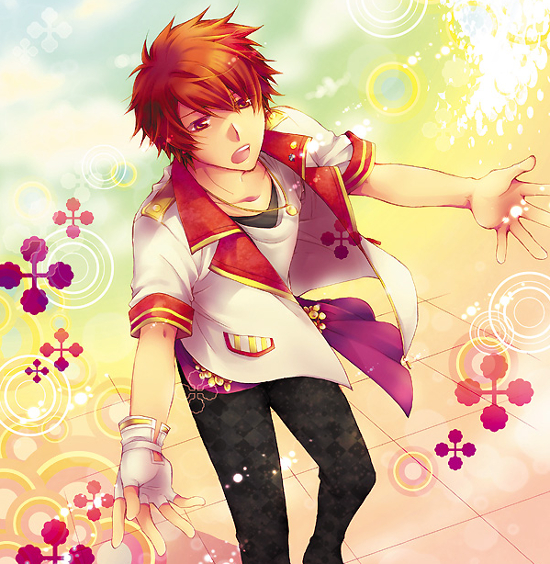 Name
: Thane Hampden
Species
: Human (Coordinator)
Age
: 17
Gender
: Male
Appearance
: Thane tends to stand out in a crowd, what with his orange hair and matching eyes. He's not huge though, standing at only 5'8" and weighing around 175 pounds. His body is well-built however, with broad shoulders for his size and a good amount of muscle all around. As mentioned, his hair is Thane's most defining feature. It is a deep orange colour, almost bordering on red depending on the lighting. He wears it moderately short, down to about the middle of his neck at the back and letting it brush his cheekbones in the front. His eyes are the same colour as his hair, perhaps a shade or two lighter if one were to look really closely. Thane's features are firm, and while pale, his skin tends to be almost always tanned a little bit from his time spent outdoors. Depending on whether or not he's working on a project, he'll sometimes have smudges of grease on his face and clothes, not being bothered enough by them to wipe them away. As a Coordinator (a genetically modified human), Thane's strength, endurance, physical reflexes and mental capabilities are above that of regular humans. He can see father, run faster and take more punishment than most, qualities which will no doubt serve him well on Planet. His genetic heritage is also where he gets his odd hair and eye colour from, having inherited the former from his father and the latter from his mother.
As far as clothing goes, he likes to keep it causal. His outfit varies with the seasons and if he had a project underway. T-shirts and cloth pants are what he's most comfortable in, but he usually switches to a tank top and thick jeans if he's working on something. He has eccentric taste in style, mixing and matching colours and patterns without any regard to whether they look good together. Favourite accessories include a pair of steam-punk styles goggles and fingerless gloves.
Personality
: Thane's personality is just as loud as his clothes. He almost always has a smile on his face, and he'll act cheerful even on the gloomiest of days. Outgoing and friendly are just two of many words to describe him. Luckily, the teen isn't bouncing-off-the-walls hyper, although giving him enough chocolate will turn him into a human whirlwind. Enthusiastic about everything, he tries his best to keep it contained and act relatively normal, but that will be tough for him to do in a place like Whazzit. While Thane does like to be the centre of attention, he doesn't actively seek it, content to let others make their own decisions about him. Quick to reach out to those in need, he seeks to be around people he likes and can trust, no matter how small or large the crowd.
One of his real loves is engineering, and Thane is determined that being stranded on a planet with ancient technology won't stand in his way of building stuff. Having a Coordinator's superior intellect will make things easier to learn, and the teen swears that he'll apply all of his knowledge towards creating machines that will be useful to his new home. One is able to find him constantly working on something, whether it be a new type of generator or trying to repair his damaged DINN. Another trait of his is that once Thane makes a promise, he'll go through hell and high water to keep his word. No matter how ridiculous the promise, if there's a way to do it, he will. This makes him a bit stubborn at times, but he sees his stubbornness as a plus, not a minus.
History
: Thane was born to Theo and Delphia Hampton, and is the oldest of three boys. His childhood was fun and peaceful, and he often spent his days watching his father build and repair shuttles. When the Bloody Valentine War broke out, he was doing well in school and was looking forward to following in his father's footsteps. But the surprise attack by the Earth Alliance changed his priorities. While he didn't lose any friends or family in the destruction of Junius 7, Thane decided that it was his birthright to defend the PLANTs and the Coordinators who lived there, and so joined the military as soon as he could. His parents were saddened by his decision, but understood his reasons.
Thane's training was rushed, even for a smart mind like his, and he got his first combat experience at Jachin Due, piloting a standard GINN and taking out a few opponents in the process. His training continued as he was sent to Earth and stationed in Taiwan with a team mostly comprised of rookies. He participated in the Battle of Kaohsiung early the following year, graduating from a standard GINN to the aerial-oriented DINN. He remained stationed in Taiwan for several more months, doing patrols and engaging in small skirmishes until he was sent to Victoria, Australia to help ZAFT defend the city against an enemy attack. It was his most difficult battle, and while he did take out many opponents, his DINN was eventually severely damaged and brought down. It was while Thane was plunging towards the ground, certain that he was about to die in a fiery explosion, that he and his machine were suddenly brought to Planet.